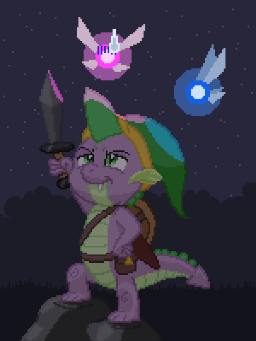 Source
It had started out simply enough: Twilight wanted to learn if aliens exist, so she began researching spells.
Did I say 'simply'? I meant 'crazily'.
Well, one thing led to another, and as a result, Spike is now in an unfamiliar world. With Twilight unable to bring him back, he has to search the land for a way home.
Along the way, he must assist some of this world's strange creatures. Will he be able to recover their fabled 'Try Force' and get home before Twilight goes crazy? And will he finally understand what courage truly is?
---
Timeline placement: Just after Hurricane Fluttershy (Equestrian side); a century after Ocarina of Time / Majora's Mask (Hylian side).
Chapters (11)