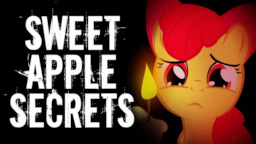 Source
Apple Bloom is called out to the big barn on Nightmare Night, told she will be learning about a family tradition she did not know even existed. When she arrives, she finds there is more to Sweet Apple Acres than she would ever have expected.
This short story was written for the Quills and Sofas Speedwriting group's Halloween Spooktacular contest. Much thanks to the members of that server for comments and editing help!
Coverart from TheLostNarrator; used with permission. Links to readings are available on my user page!
Chapters (1)