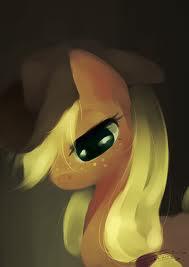 Source
Applejack meets a pony she used to know. Conflict arises with her friends, Equestria, and herself. The farm pony must choose between the past and present in a struggle that could lead to Equestria's demise. But will it really be so bad if she's happy?
Author's Note: The picture is not mine. OK, so this is my first fanfic ever. This idea got into my head and wouldn't go away until I put it into my computer. I was thinking of just doing a one-shot, but now it doesn't look that way. Anyway, there is a 'other' pony tag as you can see. Well, I didn't want to tag the actual pony because I want it to be a surprise. But not so much of a surprise that it startles. I have no idea how often I will update, but if there is interest I will certainly try and do it as quick as I can.
Category Note: I did choose Dark, but don't be afraid. I plan on there being just a pinch of violence later on, but trust me, it'll be pretty low-key violence. I might add Adventure later on, if I'm able to do that at all, if I feel like the story needs an epic outing. We'll see, I'm the author. I can make the ponies do what I want!
Chapters (7)