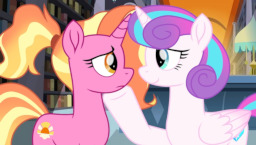 During a trip to the bookshop for the Fifth Edition of the Ogres and Oubliettes GM Guide, Luster Dawn encounters a mysterious but friendly pony that is trying to remain incognito in Ponyville lest she gets swarmed by dozens of admirers.
And given this pony's lineage and acts of heroism, could anyone really blame her for wanting to keep her identity a secret when she's trying to do mundane things?
Flurry Heart and Luster Dawn vector belongs to EJLightning007arts.
---
Part of the Flurry and Luster's Comical Chronicles series.
Chapters (1)