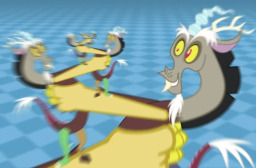 Source
As their relationship has matured, Fluttershy and Discord have found a variety of different ways in which to pass their time together.
The "Sex" stuff here is all implied, but it's pretty heavily implied...

This would've been my entry in the Writeoff's 172nd contest, "Divide and Conquer," but I was working on another project during the 24-hour writing period back on October 3rd, 2020. So here it is now, all put together on October 31st, 2020.
Chapters (1)