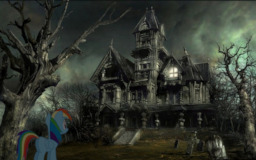 It's Nightmare Night in Ponyville (and presumably everywhere else as well) and Starlight and Trixie have teamed up to host a haunted house attraction. Spooks and frights and guaranteed in this one-of-a-kind experience orchestrated by two mares who, between them, barely make up a single functioning member of society.
What could go wrong in this pandormare's box of horror designed by a former villainous megalomaniac with boundary issues and a compatriot whose worldview is heavily tinted by a lens of narcissism?
---
Take on the role of Rainbow Dash, fearless seeker of frights, in this branching CYOA experience. Explore different paths to victory, collect items, solve puzzles, and try to find all the hidden endings!
Content warnings: More thriller than horror, with the occasional dip into psychological terror. Some medium-tier body horror, mostly transformation based. Odd snippets of comedy to lighten the mood. Mild spoilers for various horror movies, but nothing recent.
Note: Some artists are credited by name only because their only linkable contact is on nsfw-heavy websites.
Special thanks to SparklingTwilight and Panem et Circenses for helping work out the gameplay kinks and pointing out mistakes that slipped past me.
Chapters (133)