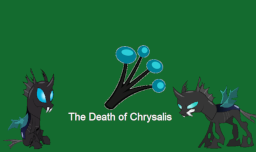 Some say that Sombra was the greatest tyrant in history. They are wrong.
Queen Chrysalis has ruled the Changeling Empire with an iron fist, silencing all 'traitors' who would dare deny her with ruthless efficiency. The changelings have been under her rule, one where freedom of will, speech and identity have been restricted for so long that they must all fear and rely on her.
So what happens when the seemingly eternal queen dies? It is up to her courtiers to scramble to attempt to determine what comes next, back stabbing, political play, and the challenges of succession become the norm. Suffice to say, the Changeling Empire is in for some reforms, though whether they are good or bad remains to be seen.
---
Inspired by Death of Stalin, though I will say it is not a one to one copy XD
Set during season 6, obviously. Cover was made by me, in MS Paint.
Chapters (2)