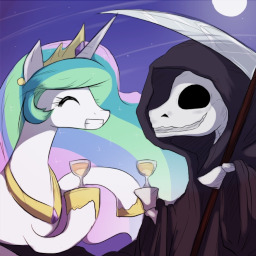 Source
For the first Nightmare Night since her crowning ceremony, Twilight chose to organise a celebration of sorts in Canterlot. Some nobles suggested a play. Some, a parade. An end to the discussions came when Pinkie suggested both.
It came to happen, unfortunately, that just hours before the playrade one of the actors twisted his ankle. The one tasked with playing the role of Death. Once again, Pinkie came to the rescue with her own solution.
Twilight really wished she hadn't.
Chapters (1)