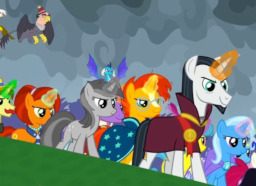 Sparkler was a hero. For a short moment in time, she could show herself to the world while she helped saving Equestria from doom and destruction. The problem was just that the world didn't see her.
Sparkler was a shadow. She followed other ponies, made sure they were okay and was always there for them when they needed her help. But they never turned around at her. Because what's special about a shadow?
Sparkler was invisible. Always going unnoticed, no matter how much she helped, no matter how often she jumped into the breach for her fellow ponies.
It had always been like this for Sparkler. She was the invisible shadow hero of her world.
Everypony is important. But some heroes aren't meant to be noticed.
A story inspired by "The Ending of the End" from the Season 9 Finale. "Unsung Hero" contains a few references to my story "Aunt Millie", but knowledge about it is not required to understand this story.
Chapters (1)