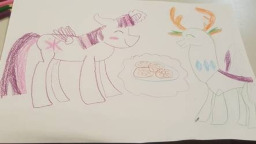 Princess Twilight Sparkle and King Thorax are both special someponies who have dated each other for three months now. And one day, Twilight has decided to bale some cookies for Throax in an expression of gratitude. But, things don't go as planned.
New story! This is a parody story idea that I have came up with! I hope you all will enjoy it!
Also, I do not own My Little Pony, it belongs to Hasbro.
And the coverart is drawn by me.
Chapters (1)