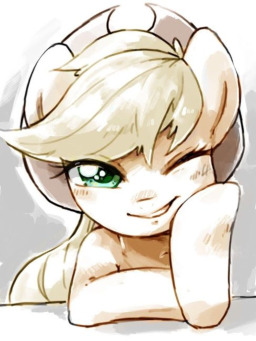 All Applejack wants is a kind, good-natured, simple stallion to settle down with. Only problem is, the stallion she's fallen for is anything but that.
No matter how hard she tries, she can't stop herself from falling in love with a villain. A criminal. And she doesn't know why.
But she's determined to figure out the reason, even if it means accepting a shameful truth about herself.
Sex is discussed and reflected on, but not shown.
Part of the How We Lost It series, inspired by Fluttershy's Night Out
Proofread by Schattendrache
---
Other Stories in the How We Lost It series:
Twilight: Running Away from Destiny
Rarity: What is a Worthy Man?
Rainbow Dash: Deathbed Thoughts
Pinkie Pie: What is a Smile Worth?
Fluttershy: Coming soon!
Chapters (1)