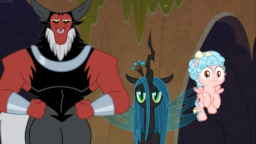 This story is a sequel to Mr. and Mrs. S.M.I.L.E.
---
For centuries anything magic, alien and supernatural has been handled and covered up by the Supernatural and Magical Intelligence League of Earth and their agents. And sometimes this includes putting the latest magical menace to community service under the local branch of S.M.I.L.E.
Princess Twilight gets a visit from the people she least wants to see, offering to help her get rid of the people she most wants to see leave.
Written for FanOfMostEverything's Most Delightful Ponidox contest, sequel to a previous entry to a previous contest by him.
Preread by Saphroneth, who I don't believe has made a Loop out of this yet but statistically he probably has.
Chapters (3)