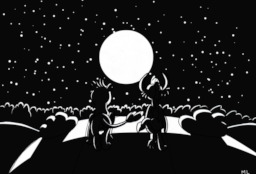 Source
This story is a sequel to Somnambulism
---
Gallus and Smolder have formally begun a relationship, and start out by going on a date. But of course, the first date is always the hardest...especially when they still aren't entirely sure how they want this to work.
But maybe the date's just what they need for that.
----
It's been a bit sporadic about it, popping in then back out a few times, but I guess saying this was featured on 10/17/2020 still counts... (now watch, it'll immediately vanish from it again now that I've added this. EDIT: yup, see, already gone again!)

Sequel to "Somnambulism". Reading it first is encouraged, but shouldn't have to be required--you should still be able to follow along anyway.
Chapters (8)