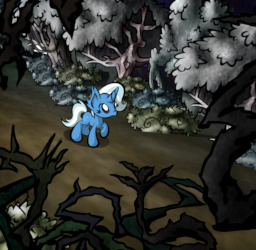 Source
After her fateful encounter with the Ursa Minor, Trixie finds herself alone in the Everfree Forest, hungry and tired, and with her wagon destroyed. Trixie must make her way through the Forest, and find a place to start over after losing everything. The Everfree is a dangerous place, however, and some parts of it are darker than others...
Fair warning: there is a spoiler after the break.
A short, first person, single chapter Trixiefic written as an exercise of a long unused writing muscle. Ties in with Story of the Blanks, but foreknowledge of that story is not needed to enjoy this one.
Rated Teen. Because Blanks.
Chapters (1)