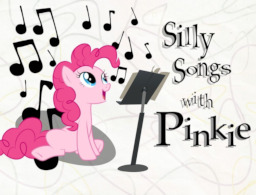 Welcome to Silly Songs with Pinkie Pie, the part of this site where Pinkie comes out and sings a silly song.
Short Pinkie-fied renditions of memorable, upbeat tunes for the whole family fansite!
Song requests could be made (preferably) through PM's.
NO ANIME SONGS. ONLY SONGS EVERYONE IS AT LEAST FAMILIAR WITH.
EDIT: everyone gets ONE request. Stop filling up the comments saying "What about this? What about that?" over and over. Please and thankies.
Let's make some music, ponies!!!

Chapters (20)