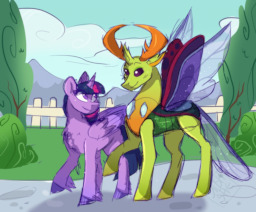 One day, King Thorax and Queen Twilight Sparkle were having a normal and lovely day after their marriage six years ago. But that was until their children came over and ask them some questions they have on when they met. So, Thorax and Twilight decides to disclose it to them.
New Twirax story! I hope you all will enjoy this one as well. This is a parody story made for my friends TyrannosaurusVenom and Rhino932 Toon. This story will take place in my friend TyrannosaurusVenom's story The Kings' legacies. I hope you all will enjoy it!
Also, I do not own anything in this parody story. My Little Pony Belongs to Hasbro, and Jurassic World belongs to Universal Pictures. And the image I am using for the coverart also belongs to it's rightful owner. I repeat, I do NOT own anything.
Chapters (1)