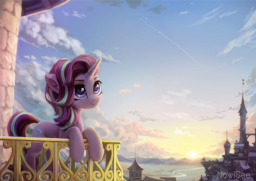 Source
In a magical land of Equestria nothing bad could happen to a foal.
Starlight Glimmer didn't just believe it. She knew it, as well as many other colts and fillies across the land.
She still remembers as it had been. Before. Always. And never more.
----
Proofread by awesome Koekelbag.
There were two more people who helped me with the story. Both of them prefer not to be linked here. Still, thanks. You know that without you this story would be worse.
Chapters (1)