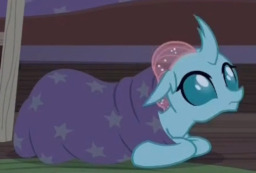 Ocellus has been sent to the School of Friendship to assist one of the students there, who has a bit of an anger problem. Her goal is to make the student at least a little bit more bendable to the school's rules, and then she'd be excused. Permanently.
But something tells her that this isn't something her computerized brain can just plan out. It's real life. With real creatures. And she has to fit in, or else she won't be able to help out her client.
And that means she might have to be there way longer than she needs to be.
---
Note: -Don't matter if the cover art may not match the story. I chose what I chose because 'Celly is best bug. 'Nuff said.
Chapters (5)