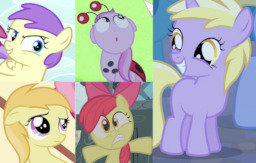 So once again the day is saved. Literally. In this case, by that new unicorn who came into Ponyville and fought Nightmare Moon, the nightmare that would never end (until it did).
They say this unicorn is strange. They say she's a princess and a witch, who lurks in dark libraries and tames mighty dragons.
Well, Dinky knows that's bunkum, but who cares? She's never turned down a quest, not with her Sisterhooves Sisters in tow.
What a team they are too: Odd Job, carrot-farming sister and cosmic punching bag; Apple Bloom, who's got the heart of an apple (and the imagination to match); Alula, the pegasus who couldn't be more pegasus if she tried (harder); and Piña Colada, who's what you get as a sort of add-on if you seek out Berry Punch's beverages.
Together, they will bravely and nobly discuss over drinks what to do about this new hero in their midst, and see if they can fit her into their usual playtime. After all, it wouldn't be much of a quest if it wasn't dangerous. Twilight will just have to take her chances.
Chapters (6)