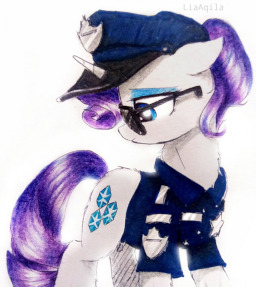 Source
This story is a sequel to The Sisterverse Social
---
What do you do when you're forced to choose between what you love, and what is right?
Radiance, the older sister of Twilight Sparkle, has finally gotten her dream job as an officer at the Canterlot Police Department. However, before she's even hardly found her bearings, she witnesses a group of police beating an innocent pony. Now she must decide who to tell about what's really going on--or even if she should tell anyone at all.
Written in the belief that it is not a crime to treat other people like human beings.
Set in the Sisterverse, established in "The Sisterverse Social." In this universe, the Mane 6 are composed of three sets of sisters: in this case, Rarity and Sweetie Belle, known as "Radiance" and "Moonlight Serenade", are the biological children of Night Light and Twilight Velvet, making them siblings with Twilight and Shiny.
Many thanks to my prereaders: Matt, Krack-Fic Kai, and PresentPerfect.
Super-Special thanks to daisychains and The Cloptimist, who gave an enormous about of help as dialect coaches.
Art by the wonderful LiaAqila. Go give her a comission!
Chapters (9)