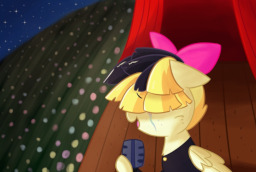 Source
After she's left with broken wings due to an accident, Songbird finds herself consumed by stress and doubting herself. A few comforting words from her marefriend remind her of why she performs, and she learns that a fall from grace isn't always a bad thing.
---
Expanded from a story written for Quills and Sofas Speedwriting Contest #72 "Broken Wings."
Cover Art by Artiks.
Proofread by The Red Parade, Silent Whisper, Wishcometrue, TheLegendaryBillCipher, SunlightRays, Holtinater, Carapace, Seer, MasterThief, &
Buttery Biscuit.
Edited by Cyonix & flutterJackdash.
Featured on sandbox on 2020/9/13
Chapters (1)