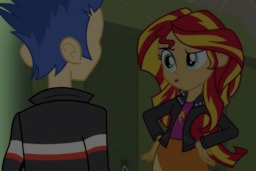 Source
As the announcement of the Fall Formal Princess approaches, Twilight can't bear to keep stringing Flash Sentry along. She has to tell him the truth about who and even what she is.
It's not going to go as she expects. To be fair, neither did Flash's attempt to break up with Sunset.
Rated Teen for astringent language (I'd hardly call it harsh) and acknowledgement of reproduction-adjacent concepts. Cover spliced together from a screencap of the first Equestria Girls movie and a Flash vector by jucamovi1992.
Chapters (1)