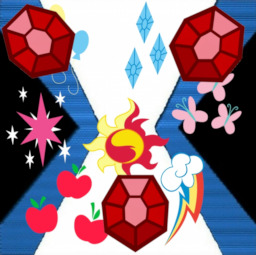 Sequel to Digital Dustin.
After the events of the Fall Formal, Canterlot High is hosting a musical showcase and Dustin and his friends are going to be performing with their new bands, The Rainbooms and The Web Surfers. But then a new threat called the Dazzlings comes to CHS and convinces everyone to turn the friendly showcase into a Battle of the Bands, Dustin and the gang call on Princess Twilight to return to their world to help them perform a musical counter-spell while Dustin also gains a new form that negates the Dazzlings magic. The Rainbooms and Web Surfers both must put their musical skills to the test to save CHS.
This story is proofread by Latifan35.
View the Digitrix here
View Dustin's transformation roster
Chapters (2)