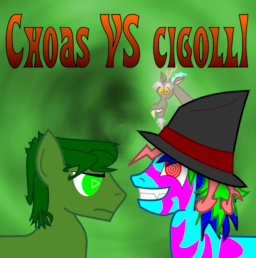 (Set in Psycho's Equestria)
This is a side-story to The true Psychopath. The image was made by HooveslikeJagger. The "other" tag is for the OCs from other people.
You can find the characters that are "cameos" here. I won't say which ones are which, so you'll have to look here. That, or the original creators can say it themselves in the comments.
The Psychopath returns once more with a certain mare with equally swirling eyes to cause Illogic and unfortunate destruction. However, this time, the Disirvians have brought in somepony that he knows. A very sinister pony from his past with similar powers. Only, this dark one is probably one of the most violent creatures out there, and probably, just probably, when both the World of Illogic and the World of Insanity encounter, something will be unleashed to leach off the results and make some unexpected allies.
However, what exactly IS the reason for these shady characters at the tough, unforgiving Disirvian mountains, to go so far out of their way to capture Psycho? What purpose is there? Perhaps Pandora will be able to shed some light on this mystery.
Chapters (10)