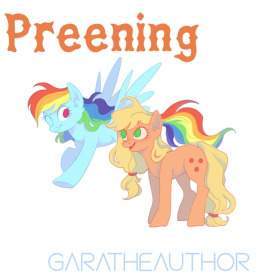 This story is a sequel to Big Spoon
---
With Applejack and Twilight's anniversary soon approaching, Applejack decides to surprise her by learning how to preen wings.
Thankfully, after some strategic bribes, Rainbow Dash is more than willing to swallow her pride and help.
Though Rainbow does warn her that things could get... intimate.
---
my Patreon project for August. If you'd like to impact future Patreon votes, please consider joining for as little as $1 per month at this link!
An entry to Krazy's Appledash Event!
Proofread by my ever astute boyfriend RoMS, who is the most goodest proofreader in the wolrd. And no he doesn't proofread my descriptions.
Cover Art by Anhell Mortem. So many thanks to her for allowing me to use this piece.
Chapters (1)