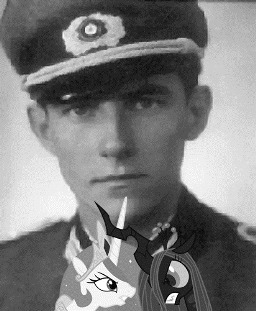 A German soldier fighting in Berlin during the final days of WWII finds himself thrown into Equestria. The problem is that he went from one war zone to another. The only difference is the weapons they use to wage war, oh and they're ponies. He is thrust into a position that may change the balance of power. But will it be for the better? Or worse?
First off, this is set in a different universe than my other fic 'The First Battle for Equestria'. If you've read some of that you know I have a thing for violence. This probably won't be as violent, but I make no promises.
This is rated T for a bit of sexual content (No clop) and strong language.
Chapters (3)