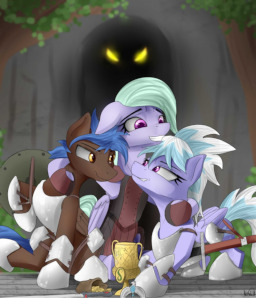 Source
Orphaned at an early age, Flitter and Cloudchaser discovered their true callings as mercenary treasure hunters. Now, they are once again risking life and limb for gold, glory, and fame while an ancient evil conspires to finish what it started all those years ago.
Finally, after battling bandits, surviving rockslides, and deciphering runes, they uncover a different kind of treasure than what was originally marked on their map.
---
Inspired and encouraged by the amazing pony veteran The Blessed One and his incredible F/CC story Sweet and Salty
I hope you all like the new cover-art. The amazing artist NixWorld drew it, and I am blown away by its quality. Check him out if you want high quality art!
Partially edited and proofread by the incredible writer, EverfreePony
FEATURED: 10/4/20
Chapters (24)