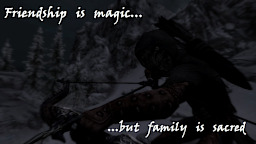 After breaking the Fifth Tenet, Dark Brotherhood assassin Aram Falie ends up in Equestria. Tortured by paranoia of the dread father and a minor case of schizophrenia, what will this banished assassin do in a land of peace and harmony? Read on to find out.
A Skyrim/MLP crossover.
Previously edited by Flutterbrony539.
This shouldn't contain any major spoilers for Skyrim, especially if you've finished the Dark Brotherhood questline. However, it might depending on what you don't know about Skyrim, so be warned.
This will be my second shot at FanFiction as well as my first time writing in first person. Constructive criticism is greatly appreciated.
I created the image with a Steam screenshot of the game The Elder Scrolls V: Skyrim and used MS Paint to edit it, the picture is an accurate portrayal of Aram.
First featured 09/20/13! A great big /) to all my fine readers who made these possible.
Chapters (23)