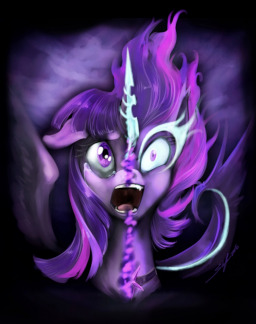 Source
This story is a sequel to Only the Best, Only the Elite
---
8 years have passed since that fateful test, and Twilight has been taken under the wing of Celestia; to become the next heir to the throne. However, a Nightmare from the past will challenge that right.
Recently an uprising has been gaining traction, the Cult of the Nightmare Moon. They've been relentlessly promoting the return of Celestia's sister: the infamous Mare in the Moon. Years ago, they did something Twilight will never forgive. They took something precious from her. Something she can never replace. Her very being yearns for revenge.
When the sun goes down and with Nightmare Moon's return inevitable...one can't help but wonder, which one is the real Nightmare?
Chapters (27)