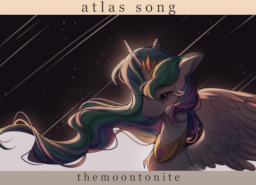 Source
The stars have been Celestia's tireless companions since the heat of the sun first scorched her soul clean. For a thousand long, lonely years they have been the only constant in her life. Their soft voices just barely cresting the horizon as she pulls the sun into place before they go silent for another day.
Some days she wishes she never heard them at all.
---
Written in an hour for a speedwrite at Quills and Sofas and presented here with some editing. Thanks to the everyone in that server, really. I wouldn't be the writer I am nor the writer I'm going to be were it not for y'alls presence in my life. Special thanks to the lovely, talented, and heart-wrenchingly kind Seer for editing assistance.
Credit to Leafywind for the cover art. You can read a review of the contest version of this story here. A reading by StraightToThePointStudio can be found here.
Chapters (1)