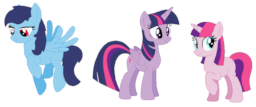 Source
Twilight Sparkle is far more than what she appears. While much of what Equestria knows of her is true, only a select few know the full truth.
Twilight Sparkle is in fact two ponies fused together, giving birth to a third. How this happened, not even Celestia knows, for none of the three ever speak of it.
But while Twilight is in many ways the daughter of Cobalt Strike and Star Twinkle, and she knows she exists entirely at their whim, she could never hate them. No matter how much they drive her crazy sometimes.
But when the three of them stand united, there is very little that can stand up to them.
This is their story.
Chapters (2)