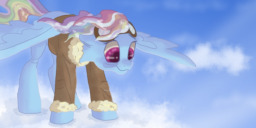 Source
Rainbow Dash is old and sick to death of being on 'wing rest'. She knows she's got more left to give, and she wants to give the world one last sonic rainboom. No matter what the cost.
TW: suicide mention.
A retrospective look at Rainbow's life, as told by Rainbow as she goes on one last herculean journey. Originally a speedwrite for the 100th contest for Quills and Sofas, now doubled in length and fleshed out more. Special thanks to all the Quills and Sofas members who edited, especially Flashgen.
Chapters (6)