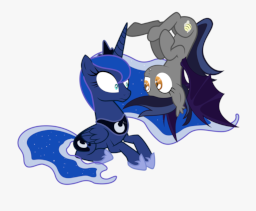 Princess Luna repeatedly gets annoyed by her bat pony guards. Actually, the bat ponies annoy anypony they like, but Luna gets the most of it as she is the only pony in the castle who spends most of the night awake. Featuring pranks on several occupants and some visitors of Canterlot Castle, all by bats. Some are my own OCs, and some are well-known OCs who belong to other ponies in the fandom.
If you want the bat ponies to play a certain practical joke, tell me about it in the comments and I might just use it. If I do, I'll credit you, of course.
IMPORTANT NOTICE: I am now looking for bat pony OCs. If you know any bats who want to join the fun, PM me!
Chapters (5)