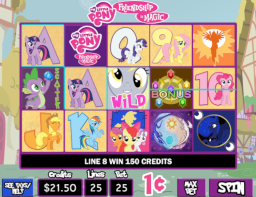 Why do they keep coming back? Maybe it's wounded pride: they were humiliated once, and so they have to get one con over on Ponyville to heal their egos. Or a lot more than one, given all of the successive embarrassments. But either way, the brothers have returned to the scene of their crime(s) so often as to give Pinkie a tail twitch configuration just for their presence. Something which leads her and Twilight to a huge tent in the Everfree, one which has free drinks, slot machines, and happy ponies who haven't lost so much as a tenth-bit.
They can't lose.
As far as the latest con goes, that's just part of the setup.
(Now with author Patreon and Ko-Fi pages.)
Cover art taken from an image created by DrXFizzle.
Chapters (1)