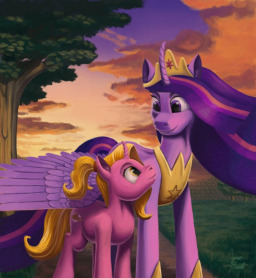 "I would rather share one lifetime with you, than face all the ages of this world alone." Arwen, Lord of the Rings.
This story is a rewritten and combined version of Luster Dawn Friendship Successor and Passing On Together. A fix fic for anyone who didn't like the finale which apparently broke the promise by Meghan McCarthy that Twilight would not outlive her friends. But the truth is that its up to us whether she does or not, Jim Miller said they don't know how long everyone lives including Twilight. That means they are leaving it up to us to decide for ourselves. The way I saw the finale there was a curse breaker option. It appeared to me that Twilight was training a successor in Luster Dawn so that she can give up her immortality. Great tests await Luster as the real Grogar returns and sets up a plan to conquer Equestria.
The main story in the Successor Verse. Sad label for the loss of loved ones and death in general. But also happy and fun times, and a bittersweet ending.
Authors Notes: This story uses a theory I developed gathering info through the mlp wiki rather than the widely believed theory that immortality is the ability of alicorns.
If you believe immortality is a gift you are entitled to your opinion, but please do not try to convince me of such. I'm trying to give people who don't want Twilight to suffer the curse of immortality an alternative.
Edited by Huk, Azurakeres, and ClownPrinceofCrime.
Chapters (26)