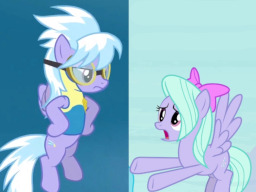 Cloudchaser is the perfect big sister: cool, calm, collected, and carefree. Flitter is a lot of things – most of them insanely annoying – but she'll always see her sister as a true paragon.
That's because Cloudchaser's determined to act like one. Always. No matter what the cost.
So when they both apply for the Wonderbolt Academy, and only one of them gets in, it's a very bad time to let the façade crack under the sudden pressure.
Then again, why not crack? After all, she's walked on the edge of the storm every day. She has to stop acting sometime.
Storms that strong can't hide forever.
Chapters (1)