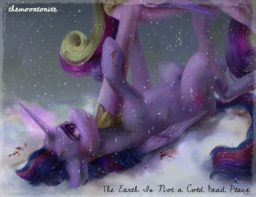 Source
Love was immortal. Love burned even when all else ceased, when the flame of breath left ones chest still did love burn. So then did an immortal lover love forever; the kind of love that could topple empires and threaten to coat the world in ice. This was Twilight's last chance to prove she still had love left to give.
She only hoped it was enough.
Written for the Quill's and Sofa's Princess speedwrite, where it took first place. The posted version has seen extensive editing with the help of Dreamer Deceiver's gracious heart and nimble hands. Cover art credit to the tremendously talented Splush23.
Chapters (1)