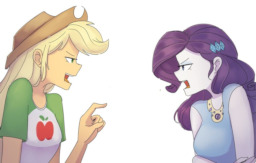 Source
In which Rarity believes in true love and Applejack thinks Rarity's crazy if she thinks she has a chance with her cousin.
Everyone else in the story are just there for plot convenience.
---
Cover art background slightly edited in order to not mislead, but sourced nonetheless. I can't draw, I can barely write.
Chapters (1)