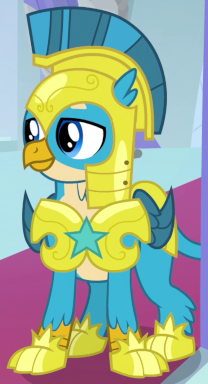 Source
(Semi-sequel to Storm Between Friends. It is encouraged but not required for you to read that first.)
Determined to make a name for himself and finally prove that he's not useless, Gallus decides to join Equestria's royal guard! A decision that shocks everyone! Since there's no rule against it and he's of the legal age to enroll, Gallus' decision is accepted.
Shining Armor soon decides that the newest recruit needs special training with a very special individual. Said individual turns out to be the royal guard's new task master: Commander Tempest Shadow. And Tempest has a reputation for being extremely tough on new recruits.
But maybe, just maybe, Gallus will not only survive her intense training but also come to learn something from her (and perhaps Tempest will learn something from him too).
Chapters (1)