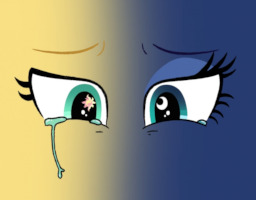 Sunset Shimmer thought she burned too bright for the likes of the Princess of the Sun. When she ran away to the Mirror World, Sunset discovered the worst parts of humanity before starting her reign of terror at CHS. After Princess Twilight and her friends take her down with the Rainbow Wave, Sunset is forced to remember those years she locked away.
Vice-Principal Luna felt lost in her sister's shadow. The weight of a family secret and high school scandal live with her after more than a decade. Though she is in a better place, she sees her past in Sunset's present.
In the wake of the Fall formal, who better to help Sunset than someone who has seen rock bottom and lived?
---
This is my first fanfiction and draws from many amazing fanfics, but especially Full Circle by Sotharan! This one gets a lot darker and I might change to Mature about half way through (depending on how the story plays out and the reactions it receives). It will be a long fic because I can't write anything short. Will update weekly!
Cover art by Trizzle_Draws!
Chapters (10)