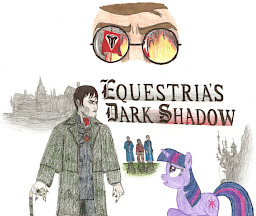 Nightmare Night nears. Twilight Sparkle wishes to show her friends her new spells she can use to aid in the scares. But one trick gone wrong results in the ultimate scare: A bloodthirsty vampire sent loose in Equestria.
Barnabas Collins now struggles not only to survive, but to find out why he's in the bizarre pony world and to find his way back home. Little does anyone know, they will soon become part of an ongoing battle none of them could imagine.
Crossover between MLP and the Tim Burton 'Dark Shadows' movie (with elements of the original soap thrown in). Will eventually blend into a multi-crossover with various franchises (this is the only story I've actually published out of a large series of fics). Headcanon to be explained on my DeviantART account - check my user page - once I really delve into the story. Critiques accepted.
Chapters (21)