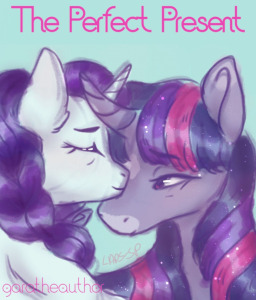 It's Rarity's first birthday since she and Twilight started dating. Obviously, Twilight isn't overthinking this fact and totally isn't losing sleep over what would be the perfect gift to get her marefriend.
Hopefully Rarity isn't too alarmed about her sudden absence two weeks prior to the big day.
---
A gift for Monochromatic, the Donald of my Three Mouseketeers. But like an R63 Donald.
Proofread by Undome Tinwe, who is the Mickey of my Three Mouseketeer. And also the only one who can actually use a sword.
Cover Art by IsaSlashLaps_SP who i unfortunately don't know well enough to make a Mouseketeer but she was very kind to lend me this cover art and is an exceptionally talented author who is well worth the follow on DA. Check out the specific piece here.
Chapters (1)