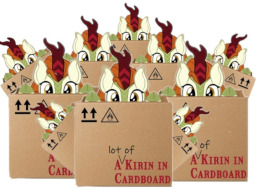 Source
This story is a sequel to A Kirin In Cardboard
---
After having learned of the joys and amazing potential of Cardboard Boxes for herself, Autumn Blaze decides that she must share this discovery with her village.
It ends with a declaration of war.
Written for the Quills & Sofa's "Expanding Universes" Prequels and Sequels event. This story is my extension on the original story A Kirin in Cardboard by TheLegendaryBillCipher. While reading Bill's story is not necessary to understand this one, it will provide some measure of context and you should just read it regardless because it is quite good.
Thank you to, basically everyone on the Q&S server for feedback, proofreading, and editing.
Chapters (1)