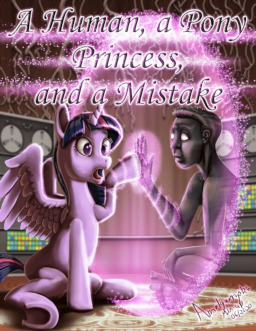 Source
A few days after ascending to Alicornhood, Twilight Sparkle is experimenting with Magic, as she is wont to do. She found a lovely new spell in Luna's old quarters in the Castle of the Two Pony Sisters that she's just dying to try. She should've read the fine print.
Featured 6/22/2020. Thank you all so much!
It happened again 6/30/2020! What insanity is this?!


OK, seriously, you people spoil me. 7/1/2020
I'm going to keep thanking you every time it happens. You can't stop me! 7/4/2020
Have all the happy Pinkie Pies in the world! 7/5/2020
RIGHT ON MY DUDES! ROCK ON! 7/13/2020
New cover art by Mix Up: https://www.fimfiction.net/user/195663/Mix-up
Mix Up's deviantart page: https://www.deviantart.com/amalgamzaku
Chapters (38)