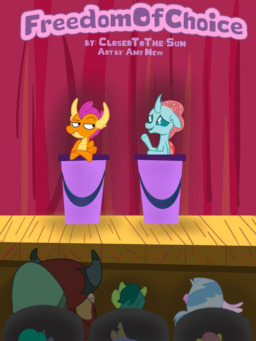 "I'll say it again in the land of the free,/Use your freedom of choice,/Freedom of choice." -Devo, 'Freedom Of Choice'
At the School of Friendship, Ocellus is running for class president. However, in accordance with the school's charter, Ocellus will have to run against another student. With this in mind, Ocellus asks a certain reluctant dragon to help her out.
---
Cover art commissioned from Amy New.
Chapters (5)