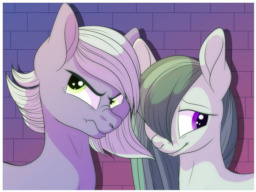 The day after Hearthswarming, Marble and the others return to the Rock farm, and Marble ends up crying in the arms of her sister. Will her sisters be able to show the mare she is loved even if it's not the love she was searching for?
Preread by: Zontan, Koren, Ruby, The Red Parade, Krazy, TheLegendaryBillcipher, and Drider.
Thanks to the Quills and Sofa writers for always encouraging me to put these story ideas up long after the contest is over.
Edited by: Ruby.
Art credit to: https://www.deviantart.com/zodiaczero/art/Limestone-And-Marble-Pie-568189767
Chapters (1)