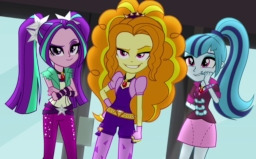 It was supposed to be a regular work day. For one man on the clock it was to be a slow day. But then, she came along, with two other girls, with nasty intentions in mind. Can he rely on his quick wits to get through the day? Or will he find himself getting more than he bargained for?
Edited by Dramamaster829
*Part of the Siren AU Continuity*
Have a suggestion? You can visit my Patreon for more.
Chapters (1)