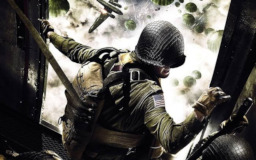 Twilight Sparkle, the Princess of Friendship, manage to cast a spell to the human world. Since she hasn't know a spell that will bring them to Sunset Shimmer's world, she knows another spell that can bring them to another human world. But they didn't expect to see this coming, the Mane Six and Spike, along with the Princesses and a Prince must to fight for their lives with another world that is at war. Earth is in World War II.
Find out how they could survive the chaos.
---
Meanwhile, on Earth, the 101st Airborne Division was scattered all around the Normandy. But they managed to regroup with their forces slowly and now their next objective is to take the town of Carentan. But before that, three paratroopers from the 502nd Parachute Infantry Regiment were being chased by a whole division of the Germans. And what happened next, shocked them beyond all reason.
---
WARNING:
This is only the timeline of the 502nd PIR battles.
Rated Teen because harsh languages and some gore.
Chapters (16)