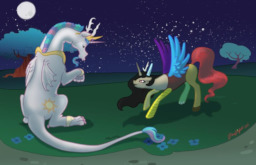 Source
Creativa's struggle against Order's tyranny isn't going well, especially after another humiliating defeat punts her through one of his portals to a different dimension. Still, this eager to help alicorn who vaguely looks like her late sister seems to be a sign her luck is turning.
Seems. Order's schemes are grander than anypony, least of all Creativa and Luna, can imagine.
---
Originally written for Nitro Indigo's first Swapped Roles contest a year ago, with Discord and Celestia being the inverted ones while a flippant canon version of Luna tags along for the ride. The story is its own fic now.
Rated Teen for some knockdown drag-out brawls between heroes and villains. One character also occasionally cusses in untranslated Latin.
Chapters (7)