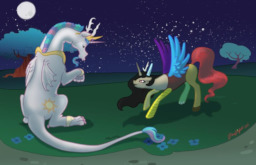 Source
Creativa's struggle against Order's tyranny isn't going well. After another humiliating defeat and punt through one of his portals lands her in a different dimension, an eager to help alicorn who vaguely looks like her late sister seems to be a sign Creativa's luck is turning.
Seems.
Order's schemes are grander than anypony, least of all Creativa and Luna, can imagine.
---
Written for Nitro Indigo's Swapped Roles contest, with Discord and Celestia being the inverted ones while the flippant canon Luna tags along for the ride. A secondary theme is Secrets, but I can't very well reveal that angle in the summary blurb.
Updates will be posted Thursdays through the months of June and July, which is when the contest ends. Y'all should join in! It's got prizes!
Chapters (6)