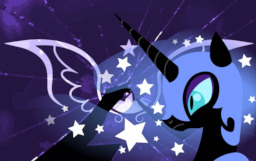 Luna after seeing the horrible conditions of batponies living in Equestria, being treated as second rate citizens, and seeing Celestia unable to do anything about it, has turned into Nightmare Moon again and declared war against Equestria and Princess Celestia.
The elements of Harmony have split up with Rarity being touched by the plight of the batponies choosing to side with Luna and later Nightmare Moon, while the other elements sided with Celestia.
Now after a long and bitter war Nightmare Moon is victorious and has formed the Lunar Empire. But will building a new nation be as easy as destroying one?
---
Set in the Equestria at War universe, but you don't need to play the mod to understand this story.
---
Cover art made by myself
Chapters (15)